Smoked Haddock & Prawn Fishcakes

recipe
This recipe is very easy, as well as being very tasty. Serve these fishcakes with a simple herby sauce or try a tartare sauce. For another similar seafood recipe, see how to make
fresh simple crab cakes
.
Ingredients:
5 medium potatoes
400ml full-fat milk
5 fillets of smoked haddock
200g prawns
120g flour
120g breadcrumbs
2 eggs
2 tbsp. mayonnaise
Handful of parsley
Salt and pepper
Directions:
Chop the potatoes into rough chunks and place them into a saucepan of cold salted water. Bring them to the boil and cook them until tender, around twenty minutes.

Meanwhile, place the milk in another saucepan and bring it to just under the boil. Place the fillets into the milk, along with the prawns, and turn the milk down. Let the fish poach for up to 10 minutes and then remove it from the milk and allow it to cool slightly.

Drain the potatoes and mash them until smooth.

Flake the fish into the potatoes and chop the prawns up and put them with the fish and potatoes.

Finely chop the parsley and sprinkle into the fishcake mix. Season the mixture well and add the mayonnaise.

Mix everything together well and shape the mixture into fishcake patties.

Beat the eggs and place them onto a plate, then place the flour onto another plate, and the breadcrumbs onto another plate.

Dip each fishcake into the flour, discarding the excess, then the eggs, discarding the excess, and then the breadcrumbs.

Cook the fishcakes in a little olive oil until golden brown on the outside and piping hot on the inside.
Author:
.
Back to the Haddock Recipes home page.
Add a Review or Comment:
Conversions
400ml
about 1 ¾ cups (1.6907 cups based on 236.59 mililitres in a US cup)
200g
about 7 oz (7.0546 oz based on 0.035273 ounces in a gram)
120g
about 4 oz (4.23276 oz based on 0.035273 ounces in a gram)
Data:
Published: April 11, 2011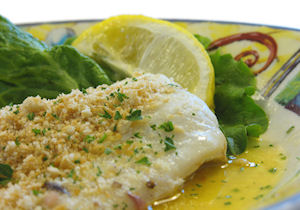 Similar Recipes:
Smoked Haddock & Sweetcorn Tart
This is a delicious recipe, resulting in a tasty tart with a wonderful texture. Allow it to cool and then serve it with a side ...
Smoked Haddock Pâté
This pâté is absolutely delicious with some homemade savoury biscuits.
Smoked Haddock Kedgeree
Kedgeree is a delicious Anglo-Indian dish, commonly served as breakfast. Serve it with warmed naan breads.