Smoked Haddock Kedgeree

recipe
Kedgeree is a delicious Anglo-Indian dish, commonly served as breakfast. Serve it with warmed naan breads.
Ingredients:
250g smoked haddock fillet
300g basmati rice
1 onion
200g peas
2 hardboiled eggs
Salt and pepper
Handful of parsley
½ tsp. curry powder
¼ tsp. coriander powder
¼ tsp. garam masala
Olive oil
Milk
600ml water
Directions:
Place the haddock fillet into a pan and cover it with milk until the milk reaches about 1cm above the fish.

Cook the fish on a low heat for about 10 minutes or until flaking. Remove from the milk and discard the cooking liquid.

Finely chop the parsley and the onion. Cut the hardboiled eggs into quarters and place them to one side.

Heat a little bit of oil in a large frying pan. Add the rice and toast it in the oil, cooking it for a couple of minutes.

Add the chopped onion, the curry powder, garam masala and the coriander powder. Stir well and cook for a further 4-5 minutes.

Add the water and then stir well. Bring the rice to a simmer and cook it for ten minutes. Add the peas, and then cover and simmer again for another ten minutes or until the rice has absorbed all of the water and is soft and tender.

Flake the fish and fold it through the rice along with the chopped parsley, season the mixture well and garnish with the hardboiled eggs and a little more parsley.
Author:
.
Back to the Haddock Recipes home page.
Add a Review or Comment:
Conversions
250g
about 9 oz (8.81825 oz based on 0.035273 ounces in a gram)
300g
about 11 oz (10.5819 oz based on 0.035273 ounces in a gram)
200g
about 7 oz (7.0546 oz based on 0.035273 ounces in a gram)
600ml
about 2 ½ cups (2.536 cups based on 236.59 mililitres in a US cup)
Data:
Published: April 11, 2011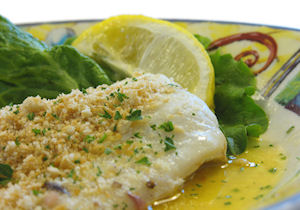 Similar Recipes:
Smoked Haddock Pâté
This pâté is absolutely delicious with some homemade savoury biscuits.
Smoked Haddock & Sweetcorn Tart
This is a delicious recipe, resulting in a tasty tart with a wonderful texture. Allow it to cool and then serve it with a side ...
Smoked Haddock & Prawn Fishcakes
This recipe is very easy, as well as being very tasty. Serve these fishcakes with a simple herby sauce or try a tartare sauce. ...