Pan-Fried Haddock with Parsley Sauce

recipe
This recipe is full of classic flavours. Simply serve this with some asparagus and some new potatoes for an easy, delicious meal.
Ingredients:
4 haddock fillets
50g butter
Olive oil
Salt and pepper
Pinch of paprika
Handful of fresh parsley
4 tbsp. butter
4 tbsp. flour
200ml milk
1 tbsp. lemon juice
Directions:
Heat the butter in a saucepan until melted and slightly frothing. Tip the flour in and stir quickly to combine the two. Keep stirring the mixture around the pan for around 5 minutes to cook out the flour. It should turn a golden brown colour.

Pour in a tiny little bit of the milk and stir vigorously. Keep adding the milk, a tiny bit at a time, stirring the sauce until smooth. If itís too thick, add more milk.

Add the lemon juice to the sauce and stir.

Finely chop the parsley, including the stalks, and put it into the white sauce. Stir well. Set the sauce to one side whilst you cook the fish.

Melt the 50g butter in a saucepan with some olive oil.

Liberally season the fish fillet with the salt, pepper, and paprika.

Cook the fish fillets by frying them for around three minutes on each side.

Spoon the sauce over the fish fillets to serve.
Author:
.
Back to the Haddock Recipes home page.
Add a Review or Comment:
Conversions
50g
about 2 oz (1.76365 oz based on 0.035273 ounces in a gram)
200ml
about ¾ cup (0.8453 cups based on 236.59 mililitres in a US cup)
Data:
Published: April 11, 2011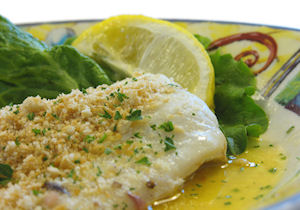 Similar Recipes:
Haddock with a Lemon Sauce
Traditionally, lemon is a fantastic flavour that works well with all sorts of fish. Serve this lemon haddock with some buttered...
Smoked Haddock & Prawn Fishcakes
This recipe is very easy, as well as being very tasty. Serve these fishcakes with a simple herby sauce or try a tartare sauce. ...
Haddock stuffed with Crab
Crab is mixed with sautéed vegetables and cheese, and then haddock fillets are stuffed with the mixture. Serve it with plain pa...