Pan-Fried Haddock Tikka

recipe
This is a quick, simple recipe that's bursting with flavour. Serve with fluffy rice and garnish with finely chopped chillies for an easy, delicious dinner.
Ingredients:
225g haddock fillets
2 tsp. chilli powder
½ tsp. turmeric powder
½ tsp. salt
2 tsp. corn-flour
Olive oil
Directions:
Skin the fish and then chop it into rough 3cm cubes.

Mix together the corn-flour, chilli powder, turmeric and salt.

Toss the haddock fillets into the mixture and pat them to get rid of any excess.

Heat the olive oil in a frying pan and fry the fish pieces for 1 minute on each side.
Author:
.
Back to the Haddock Recipes home page.
Add a Review or Comment:
Conversions
225g
about 8 oz (7.936425 oz based on 0.035273 ounces in a gram)
Data:
Published: April 11, 2011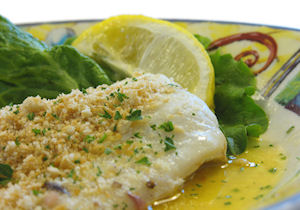 Similar Recipes:
Pan-Fried Haddock with Parsley Sauce
This recipe is full of classic flavours. Simply serve this with some asparagus and some new potatoes for an easy, delicious meal.
Easy Breaded Haddock
This is a delicious breaded haddock recipe that's actually really healthy. Serve it with home-made potato wedges and a big sala...
Smoked Haddock Pâté
This pâté is absolutely delicious with some homemade savoury biscuits.