One Pot Spicy Haddock Stew

recipe
This stew is full of flavour, with red chillies, cayenne pepper and meaty bacon. Serve it with crusty bread for a filling meal.
Ingredients:
4 jacket potatoes
1 onion
2 red chillies
450ml chicken stock
100ml white wine
4 haddock fillets
6 rashers of smoked bacon
1 400g tin of tomatoes
2 tsp. cayenne pepper
1 tsp. garlic salt
Black pepper
Directions:
Chop the potatoes into rough chunks. Slice the onion into half-moons and finely slice the chillies, discarding the seeds. Roughly chop the bacon into lardons.

Heat a bit of olive oil in a frying pan and add the bacon. Fry it until golden and then remove it from the pan. Add the onions, potatoes and chillies back into the pan and fry them until golden.

Add the tomatoes, chicken stock, white wine, cayenne pepper, garlic salt, black pepper and cooked bacon into the mixture and stir to combine. Bring the pan back up to a simmer and then add the haddock fillets.

Simmer the stew for twenty minutes or until the fish is flaking. Add more water if the sauce looks too thick.
Author:
.
Back to the Haddock Recipes home page.
Add a Review or Comment:
Conversions
450ml
about 2 cups (1.902 cups based on 236.59 mililitres in a US cup)
100ml
about ½ cup (0.4227 cups based on 236.59 mililitres in a US cup)
400g
about 14 oz (14.1092 oz based on 0.035273 ounces in a gram)
Data:
Published: April 11, 2011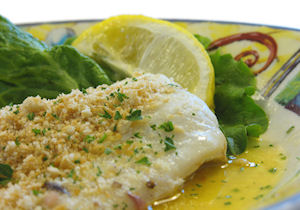 Similar Recipes:
One Pot Haddock Hash
This is a mixture of potato, curry powder, haddock and cabbage. It's incredibly tasty and easy to make, too.
Smoked Haddock Pâté
This pâté is absolutely delicious with some homemade savoury biscuits.
Haddock Gratin
This is a lovely, warming dish that's perfect to eat as a starter. It's full of flavour and is very simple to put together, too.