One Pot Haddock Hash

recipe
This is a mixture of potato, curry powder, haddock and cabbage. It's incredibly tasty and easy to make, too.
Ingredients:
750g potatoes
2 tsp. curry powder
300g smoked haddock, pre-cooked
150g cabbage
Bunch of spring onions
Bunch of fresh parsley
4 tbsp. mayonnaise
Salt and pepper
Olive oil
Directions:
Chop the potatoes in rough chunks of round about half a cm each.

Heat a bit of olive oil in a fry pan and add the curry powder. Tip the potatoes in and stir to coat in the curry oil. Fry them for around twenty minutes or until golden brown.

Finely chop the cabbage and the spring onions. Roughly chop the parsley.

Once golden, tip the haddock into the pan and begin to break it up with your spoon.

Add the spring onions and cabbage and cook for around five minutes to wilt the cabbage.

Remove the pan from the heat and season well, then stir in the mayonnaise and chopped parsley.
Author:
.
Back to the Haddock Recipes home page.
Add a Review or Comment:
Conversions
750g
about 26 oz (26.45475 oz based on 0.035273 ounces in a gram)
300g
about 11 oz (10.5819 oz based on 0.035273 ounces in a gram)
150g
about 5 oz (5.29095 oz based on 0.035273 ounces in a gram)
Data:
Published: April 11, 2011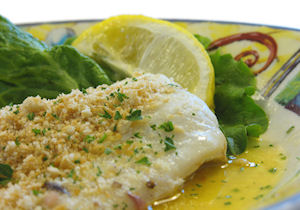 Similar Recipes:
One Pot Spicy Haddock Stew
This stew is full of flavour, with red chillies, cayenne pepper and meaty bacon. Serve it with crusty bread for a filling meal.
Haddock Gratin
This is a lovely, warming dish that's perfect to eat as a starter. It's full of flavour and is very simple to put together, too.
Pan-Fried Haddock Tikka
This is a quick, simple recipe that's bursting with flavour. Serve with fluffy rice and garnish with finely chopped chillies fo...