Haddock stuffed with Crab

recipe
Crab is mixed with sautéed vegetables and cheese, and then haddock fillets are stuffed with the mixture. Serve it with plain pasta and buttered new potatoes for a special dinner.
Ingredients:
170g tin of crab meat
60g parmesan cheese
75g melted butter
6 haddock fillets
1 stick of celery
2 or 3 spring onions
1 tomato
3 slices of dry bread
1 egg
1 garlic clove
1 lemon
Salt and pepper
Directions:
Finely slice the celery and the spring onions. Remove the skin from the tomato, along with the seeds, and finely chop it. Mince the garlic clove. Roughly chop the bread. Juice the lemon.

Heat a little olive oil in a frying pan and add the celery, spring onions and garlic. Cook them for around ten minutes or until softened and golden. Add the crab, bread, lemon juice, tomato, cheese, egg, and season well. Remove the mixture from the heat.

Preheat the oven to 200C and grease a baking dish.

Place the haddock fillets on the baking tray and brush them with melted butter. Spoon the mixture onto one half of each fillet, then fold the fillet in half and secure it with a cocktail stick.

Sprinkle any remaining crab mixture over the fish and then sprinkle any remaining butter over the top.

Cook the haddock for twenty minutes or until the fish is flaking.
Author:
.
Back to the Haddock Recipes home page.
Add a Review or Comment:
Conversions
170g
about 6 oz (5.99641 oz based on 0.035273 ounces in a gram)
60g
about 2 oz (2.11638 oz based on 0.035273 ounces in a gram)
75g
about 3 oz (2.645475 oz based on 0.035273 ounces in a gram)
200°C
400°F / Gas Mark 6
Data:
Published: April 11, 2011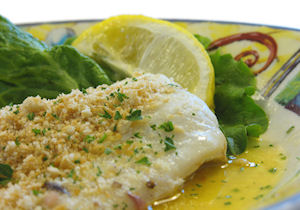 Similar Recipes:
Haddock with a Lemon Sauce
Traditionally, lemon is a fantastic flavour that works well with all sorts of fish. Serve this lemon haddock with some buttered...
Haddock Oven Bake
This is a delicious one pot meal, perfect for midweek suppers. Serve it with a mound of mash or some spaghetti.
Haddock Gratin
This is a lovely, warming dish that's perfect to eat as a starter. It's full of flavour and is very simple to put together, too.