This is a lovely, warming dish that's perfect to eat as a starter. It's full of flavour and is very simple to put together, too.
Ingredients:
1 smoked haddock fillet
1 onion
1 red chilli
4 mushrooms
100g grated parmesan
2 cloves of garlic
Salt and pepper
Handful of fresh basil leaves
Olive oil
Directions:
Finely chop the onion and the chilli, discarding any seeds. Finely chop the mushrooms and mince the garlic. Finely chop the basil leaves.

Heat the olive oil in a frying pan and add the onion, garlic, chilli and mushrooms. Fry them until the onion is translucent and soft.

Add the haddock and fry for a few minutes. Season well.

Add the basil leaves and stir well to distribute them.

Divide the mixture between to ramekins and sprinkle the parmesan cheese over the top.

Pop them in a 200C oven and cook them for 12 minutes.
Author:
.
Back to the Haddock Recipes home page.
Add a Review or Comment:
Conversions
100g
about 4 oz (3.5273 oz based on 0.035273 ounces in a gram)
200°C
400°F / Gas Mark 6
Data:
Published: April 11, 2011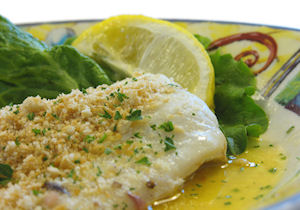 Similar Recipes:
Haddock Oven Bake
This is a delicious one pot meal, perfect for midweek suppers. Serve it with a mound of mash or some spaghetti.
Haddock and Potato Bake
Haddock meets leeks, peas and a creamy sauce with crispy, cheesy topped potatoes. What more could you want for your dinner?
One Pot Haddock Hash
This is a mixture of potato, curry powder, haddock and cabbage. It's incredibly tasty and easy to make, too.