Haddock and Cannellini Bean Soup

recipe
This is an incredibly quick to prepare Italian-inspired soup that's full of fresh flavours. Serve it with warm ciabatta for an authentic meal.
Ingredients:
1 onion
1 celery stick
2 baby courgettes
175g haddock fillet
800g cannellini beans, tinned and drained
600ml fish stock
2 tbsp. double cream
1 tbsp. chopped fresh dill
Salt and pepper
Directions:
Finely chop the onion, celery stick and the baby courgettes.

Heat some olive oil in a frying pan and sauté the vegetables until golden and coloured.

Add the stock to the pan and bring it to a simmer. Season the liquid.

Drop in the haddock fillet and cook for another 5 minutes or until the fish flakes.

Stir in the cannellini beans, double cream and fresh dill. Heat the soup so that it almost comes back to the boil, then remove it from the heat and serve.
Author:
.
Back to the Haddock Recipes home page.
Add a Review or Comment:
Conversions
175g
about 6 oz (6.172775 oz based on 0.035273 ounces in a gram)
800g
about 28 oz (28.2184 oz based on 0.035273 ounces in a gram)
600ml
about 2 ½ cups (2.536 cups based on 236.59 mililitres in a US cup)
Data:
Published: April 11, 2011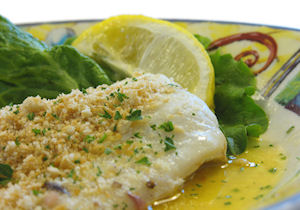 Similar Recipes:
Haddock and Potato Bake
Haddock meets leeks, peas and a creamy sauce with crispy, cheesy topped potatoes. What more could you want for your dinner?
Haddock with a Lemon Sauce
Traditionally, lemon is a fantastic flavour that works well with all sorts of fish. Serve this lemon haddock with some buttered...
Haddock and Parma Ham Parcels
These little parcels are very simple to make and are great for a midweek dinner. Serve them with some chips and some steamed ve...