This recipe combines tasty vegetables with haddock, all cooked in foil pouches for optimum flavour. Serve with fluffy boiled rice.
Ingredients:
4 tomatoes
1 red pepper
1 yellow pepper
1 onion
3 tbsp. capers
6 tbsp. lemon juice
6 tbsp. olive oil
6 haddock fillets
Salt and pepper
Handful parsley
Directions:
Remove the skin from the tomatoes and remove the seeds. Slice them into thin strips. Chop the top and bottom off of the peppers and open them out, removing the pith and the seeds. Chop them into thin strips. Slice the onion into half-moons and finely chop the parsley. Roughly chop the capers.

Preheat the oven to 200C. Set out six pieces of foil large enough to contain all the ingredients.

Place a fillet onto each piece of foil and then divide the tomatoes, peppers and onion between the fillets. Sprinkle each with the chopped capers and parsley and season well.

Drizzle each fillet with lemon juice and olive oil, then wrap the parcels up securely, allowing a little bit of room above each fillet for air to circulate.

Cook for 20 minutes and then leave them for a few minutes before serving.
Author:
.
Back to the Haddock Recipes home page.
Add a Review or Comment:
Conversions
200°C
400°F / Gas Mark 6
Data:
Published: April 11, 2011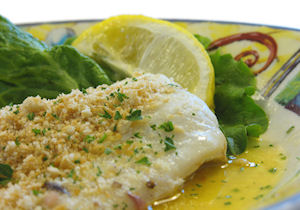 Similar Recipes:
Fish Pie
Fish pie is a classic of English cuisine – and this delicious pie is an easy version of the classic. If you want to add in more...
Deep-Fried Fish
Serve this delicious fried fish with some homemade chips. Season with salt and vinegar to serve.
Haddock with a Lemon Sauce
Traditionally, lemon is a fantastic flavour that works well with all sorts of fish. Serve this lemon haddock with some buttered...