Serve this delicious fried fish with some homemade chips. Season with salt and vinegar to serve.
Ingredients:
900g skinless, boneless haddock fillets
375ml lager
250g plain flour
Salt and pepper
Groundnut oil to fry
Directions:
Preheat the deep-fat fryer to 180C.

Whisk together 150g of the flour with the lager until completely smooth and liquid.

Sprinkle salt and pepper over the remaining flour.

Dip each haddock fillet into the flour and then pat to remove any excess flour.

Dip each fillet into the batter and remove any excess.

Fry the fish in batches until golden brown on each side.

Remove the fish and drain it on kitchen paper of excess fat.
Author:
.
Back to the Haddock Recipes home page.
Add a Review or Comment:
Conversions
900g
about 32 oz (31.7457 oz based on 0.035273 ounces in a gram)
375ml
about 1 ½ cups (1.585 cups based on 236.59 mililitres in a US cup)
250g
about 9 oz (8.81825 oz based on 0.035273 ounces in a gram)
180°C
350°F / Gas Mark 4
Data:
Published: April 11, 2011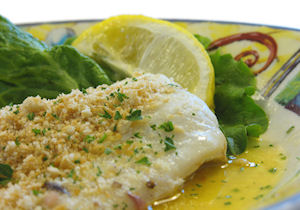 Similar Recipes:
Pan-Fried Haddock Tikka
This is a quick, simple recipe that's bursting with flavour. Serve with fluffy rice and garnish with finely chopped chillies fo...
Pan-Fried Haddock with Parsley Sauce
This recipe is full of classic flavours. Simply serve this with some asparagus and some new potatoes for an easy, delicious meal.
Fish Pie
Fish pie is a classic of English cuisine – and this delicious pie is an easy version of the classic. If you want to add in more...