Cullen Skink Omelette

recipe
This omelette takes the flavours of classic Cullen skink soup and turns it into a tasty, filling omelette. Serve with salad for a satisfying lunch.
Ingredients:
450g potatoes
300g smoked haddock fillet
1 onion
Handful of fresh chives
5 eggs
Salt and pepper
Vegetable oil
Directions:
Chop the potatoes into small chunks.

Finely chop the onion and then finely chop the chives.

Place the potatoes into a saucepan full of cold, salted water, and then bring the pan to the boil. Cook them for around ten minutes, placing the haddock into the water after around three minutes. Drain the potatoes and set them to one side, and place the fish to one side separately.

Fry the onion until soft with a little bit of olive oil.

Meanwhile, whisk the eggs with some salt, pepper, and the chives. Add the cubed potato to the egg mixture.

Add the fish to the frying pan and then pour in the egg mixture. Stir to mix everything together, and then leave the omelette to set over a low heat for around 5 minutes. If it needs finishing on the top, pop it under a hot grill for a few minutes.

Slide the omelette from the frying pan and cut the omelette into wedges to serve.
Author:
.
Back to the Haddock Recipes home page.
Add a Review or Comment:
Conversions
450g
about 16 oz (15.87285 oz based on 0.035273 ounces in a gram)
300g
about 11 oz (10.5819 oz based on 0.035273 ounces in a gram)
Data:
Published: April 11, 2011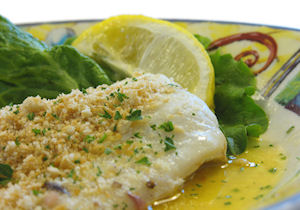 Similar Recipes:
One Pot Spicy Haddock Stew
This stew is full of flavour, with red chillies, cayenne pepper and meaty bacon. Serve it with crusty bread for a filling meal.
Smoked Haddock Kedgeree
Kedgeree is a delicious Anglo-Indian dish, commonly served as breakfast. Serve it with warmed naan breads.
Smoked Haddock & Sweetcorn Tart
This is a delicious recipe, resulting in a tasty tart with a wonderful texture. Allow it to cool and then serve it with a side ...